REEKIE TO THE RESCUE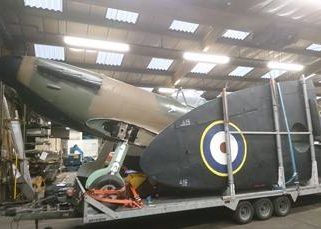 Reekie Machining had a slow start to machining on Monday morning as the staff admired a very special visitor that had landed over the weekend.  Vicky, a Mark II,  1939 Battle of Britain Spitfire replica, had developed a problem with her tail wheel bracket during filming for David Walliams, Grandpa's Great Escape, Christmas Day special at former India Tyre Factory in Inchinnan.   It required immediate attention to keep the filming on track and the first name to be thought of, that could help, was Reekie Machining.
The tail wheel bracket required repair and rather than the work being carried out on site, she was brought into the machine shop where with some turning and welding she was ready to return to set the next morning.
For a 78 year old war hero and film star, she had very few demands!  She was  flown by Iain Duncan Smiths father during the Battle of Britain and this is not her first time being filmed, having appeared earlier this year in the film "Dunkirk".
Vicky is just one of the Spitfires that has been lovingly restored and looked after by The Lytham St. Annes Spitfire Display Team.  For more information about them see www.spitfiredisplayteam.co.uk